My positive sign for the week: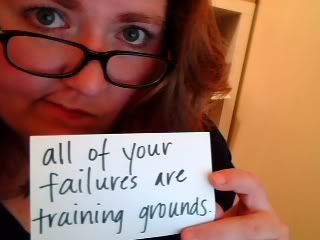 Lyrics from a great song off the "More Adventurous" album by Rilo Kiley, one of my favorite bands. I got the album from a stranger and I am destined to pass it on. That CD changed my life - I have two different quotes from it tattooed on my body, it's that meaningful.
Challenge start weight:
332
Current weight:
296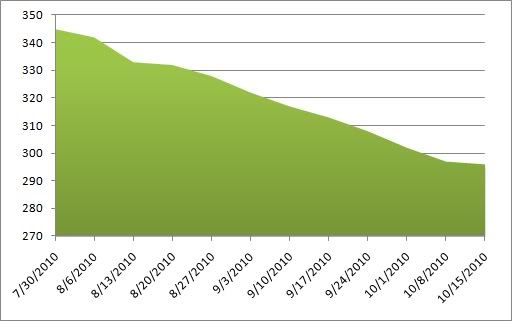 A one pound loss this week has me focusing on the long-term bigger picture - despite having spent the last two weeks feeling mopey and down, I'm still doing well and making progress.
Progress on my DDGbG goals:
(1) Yesterday was pay day, so I put away my monthly $50! Actually, I put away $100 this month instead of $50 - we'll see how my budget manages without it, but I should be fine. I'm hoping to spend it on a siblings-only overnight trip in December, so I want to save as much as I can!
(2) I'm putting together a package for my little brother with some things from Chinatown that he likes (fancy erasers and Pocky), some pencils that change color from the Museum of Science and Industry, some temporary tattoos, and a few Phineas and Ferb notebooks from the Dollar Spot at Target. I just have to write a letter and decorate the box, and it should be all set to ship on Monday!
(3) For this week's recipe, I kind of improvised. I had ground lamb in the freezer and I wanted to use it, but I wasn't sure how. When I bought the lamb, my intention was gyro pizza, the recipe for which is my own creation, and it is even more delicious than I had imagined.
(Side note: one strange thing I do more often than I should is think of names for restaurants or movie titles based on bad puns. Gyro pizza was the inspiration for a Greek/Italian fusion restaurant called "La Dolce Pita." Ridiculously bad jokes are definitely inherited from my father.)
Pastitsio was also completely off limits, so I thought about what would be delicious and then I went to the store. I ended up making an orzo salad with ground lamb, spinach, tomatoes, and feta. Delightful!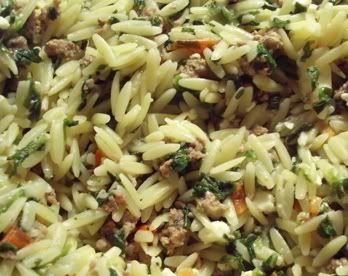 Cook 4 oz. of orzo pasta according to the instructions on the package (make sure it is al dente and not overdone!). While that is cooking, brown 4 oz. of ground lamb. Drain the fat and then add 3 cloves of garlic (well minced) and 4 oz. of thawed frozen spinach, mixing them together over medium heat. When the spinach is heated through, stir in two small chopped plum tomatoes. When the pasta is done, drain it and then put it in a mixing bowl. Add the meat and veg mixture, and combine well. When serving, sprinkle 1 oz. of feta cheese over the top per serving.
That made about two servings. It was good hot and even better cold the next day because all the flavors got to mix together - amazing.
ONE thing that you are proud of for the week: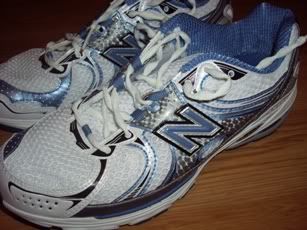 Investing in something good for me. In the past, I could spend $30-50 on a binge and not flinch. Now, I am trying to focus my financial energy on things that will benefit me instead of hurting me. I registered for two 5k walks that are coming up pretty soon, and since I am working on the Couch-to-5k program (and since my Pumas are just not cutting it anymore) I went to New Balance for a pair of running shoes. They did a gait analysis which was super cool - it's interesting, I watched the playback not thinking "Oh my goodness, look how big my calves are!," but "Oh my goodness, I was running!" It was really kind of nice.
Another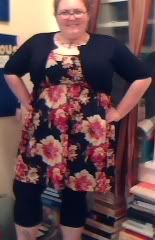 wonderful moment: last Monday, I wore two amazing things to the Belle and Sebastian concert. One, a dress I bought this summer that was super cute but exceptionally tight - now, it fits nicely! And two, a pair of leggings I gave to my sister since they were to small for me - she let me have them back since now they fit! It's not the best picture, but I looked pretty nice that night, and I felt even better. Such a huge boost of confidence! And I'm really glad I got to wear the dress at least once, since it's a summer dress and I hope that by next summer it's too big!
ONE thing that you can improve upon for the following week:
This week, I want to remind myself every day that I am doing well - I'm looking good, I'm feeling great, and I'm really committed to living a healthy life.