My positive sign for the week: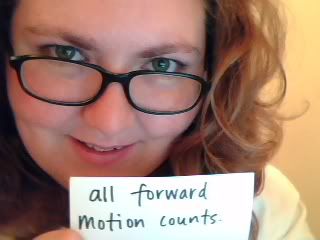 "It's good to experience the bittersweet,
to taste defeat, then brush my teeth..."
Relient K, "Forward Motion"
This was a long, emotional week. Besides all the amazing support from you all, what got me through it was keeping this mantra in mind. Even if others can't see it, I know that I'm working hard and moving forward, and that's what counts.
Challenge start weight:
332
Current weight:
302
(I worked out a little extra each day because it was my TOM week and I didn't want to feel bloated, so I'm down another 6 from last week! I hit my second short-term goal and am well on my way to 50 pounds lost!)
Progress on my DDGbG goals:
(1) Wrote a postcard to my mom, just because I love her! (2) Another delicious new recipe, this time courtesy of
Astrid
's blog (she is another DDGbD-er). Wheat pumpkin gnocchi - totally easy and delicious!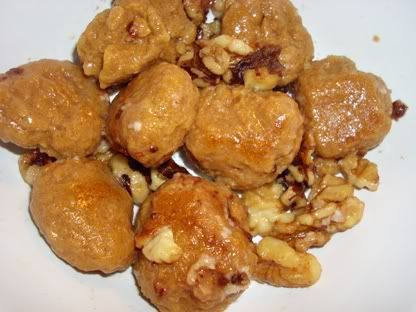 1/2 cup pumpkin puree
A little less than 1 cup whole wheat flour
Some ground cinnamon, ginger, and cloves
1. Mix it all up.
2. Roll into logs.
3. Cut up into bit size pieces.
4. Cook in boiling water for about 3 minutes (until the gnocchi float).
And that's it! Amazingly simple and totally delicious. For some reason the logs didn't work for me, so I just rolled them into little balls and pressed them with a fork. Also, Astrid served hers with shredded cheese and marinara sauce - I tossed mine up with some olive oil, garlic, and crushed walnuts, then sprinkled a little parmesan cheese on top. Dinner in under 20 minutes? I'll take it!
ONE thing that you are proud of for the week:
Taking out my frustrations on the pavement instead of a cake. Every time I choose not to binge when I am stressed out is a remarkable moment for me.
ONE thing that you can improve upon for the following week:
Feeling self-confident and proud of my successes so far. Today, I am going swimming with my friend Lorelei, who is not only fun and interesting, but amazingly supportive with my weight loss. I haven't been in a bathing suit in public since I was in middle or high school, probably. This is going to be a really big day for me, and I want to enjoy swimming laps without worrying if everyone is grossed out looking at my arms or my stomach or my thighs.