On Monday,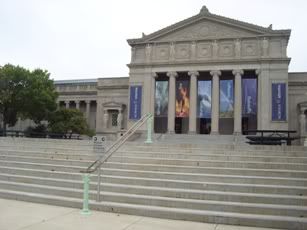 I spent a good part of the day enjoying free admission at the Museum of Science and Industry here in Chicago. Out of the dozens of museums in the city, MSI is my clear favorite. They always have new interesting things, and even after having visited a half dozen times, I can still easily spend five or six hours there.
I think one of my favorite things about MSI is how totally hands-on it is - and not just in the children's area. There is a section on farming with real John Deere combines you can climb up into, and in the new Science Storms area you can stand in a stall and feel what it's like to have wind blowing on you at 80 mph. There's even a replica of Chicago's State Street from the turn of the century, complete with a mini movie theater that plays short silent films every single day!
There were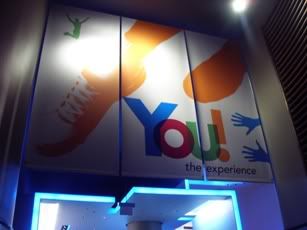 three main reasons why I went to MSI on Monday. First, it was free admission day. Second, there was a special temporary exhibit on Jim Henson (which was a-mazing). And third, because the last time I went, one of their permanent exhibits was being renovated. It's called "You! The Experience!" and it just reopened a few months ago. This time, I got the opportunity to fully experience it.
The whole area focuses on exactly what you think it would: you! And not just the physical aspects. There's a section where you can make a list of things you would like to accomplish in your life (mine had things like "travel to the place where my ancestors are from" and "start a family"), and another where you get asked questions (like "Who would you go to if you had a problem?" or "Who would you lend money to?") and you type in people you know, love and trust - then it makes a web around your name showing all the love and support you have in your life.
There's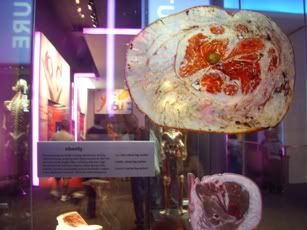 a big section on the human body, complete with models of bones, muscles, and organs. There's a giant replica of a human heart and when you hold your hands on a sensor, the heart beats the same as yours does - the same technology as the heart rate monitor on a piece of exercise equipment, except an amazingly large visual. And there are areas that show what a good healthy organ looks like, and what an unhealthy one looks like - for example, this cross-section of a thigh. The piece on top is "ultra-obese."
I really loved the area about exercise and nutrition. There's a human-sized hamster wheel that I really wanted to try, but there were tons of schools there on field trips and the line was about two dozen kids deep. The nutrition part was really amazing - there's a part where you enter what you ate/drank the day before to add to an all-visitors tally, plus it shows you if you're eating enough or too much of each food group. There was another area with a bowl of jelly beans, a can of soda pop, and a candy bar. You go to lift each one up, but the weight is equivalent to what weight you would gain if you consumed the item every single day. The candy bar weighed like thirty pounds!
One of the grossest things, though, was a Twinkie they had in a display case. They put it in there the day the exhibit opened, and it still looks completely unaffected. The sign next to it makes a simple but effective case:
Many tongue-twisting ingredients, like the Twinkie's chemical preservatives, keep products from spoiling. But is a long shelf life best for your life? Fortunately, you don't need a chemistry degree to identify "real" food. Just ask yourself: Do farmers grow this? Did Grandma use it? Can I pronounce it?