(Side note: it is not easy to take pictures of your TV!)
I have decided on a dozen short-term goals in between my starting weight and long-term goal weight - I am hoping it helps me keep on task. In the past, I've always felt so overwhelmed by the "bigger picture" of how much weight I have to lose, that I lost sight of my progress and successes.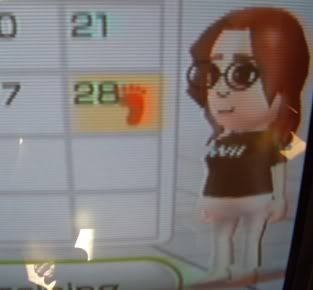 Now, I'm taking it 25 pounds or less at a time. And as of last Friday, I met my first weight loss goal.
My first mini goal was to lose enough weight to finally use the Wii Fit that my parents got me for Christmas. My sister had used it when we first got it, but when I tried, it told me I weighed too much. I was heartbroken, and we folded up the balance board and never opened it again.
Until now!
On Saturday, after my walk at the park, I unpacked the balance board, put the game in the console, and got on again. I was worried that my weight may have fluctuated back up for whatever reason, but as I got on to register my Mii, it not only worked, but showed my weight as even lower than at my weigh in! Hooray!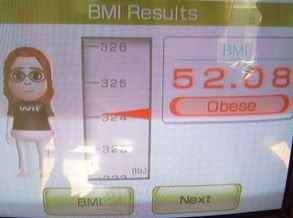 I did a hula hoop activity quite a few times - super fun! And I liked the step activity where you step on and off and to the side of the balance board. I'm still very weak at the weight training activities - but that will improve, I'm sure.
I know the Wii Fit is not the cure all for my exercise problems - I'm still going to keep walking, and I'm going to go to the gym once I get my first paycheck. But this is a good thing to have for rainy days, or when I have excess energy and I want to get it out somehow. Mainly, though, I'd like to use it for yoga in the morning before work. I think it would help me with my balance and it would be a great start to my day. Yoga is something I've always been really interested in but I didn't think I could do most of it because my body's range of motion was so limited. But I've been doing some of the things on the Wii, and there are a lot of poses that I can do even now!