When I was in high school (or maybe it was college), I got the idea that I wanted to get married on 10 October 2010. It's pretty tacky, I know. I think I was mostly in love with the idea of getting married in mid-October since autumn is my favorite season.
Now, as we're just over a month away, I'm no closer to getting married than I was back then. I'm kind of glad I'm not, too, because I am really loving my life right now - relishing the first year since I was 4 that I'm not a student, working hard, hopefully traveling, and genuinely just enjoying life. But I'd like to do
something
out of the ordinary on 10/10/10.
Cue the 2010 Chicago Marathon.

At this point, I'm more likely to get married on 10/10/10 than run the Chicago Marathon, and I'm as single as can be. I would like to run a marathon eventually - it's one of my long-term weight loss/life goals. But this year will not be my year. I haven't trained, and I'm still extraordinarily out of shape.
So I've been thinking ...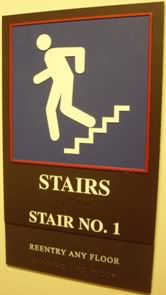 a marathon has 26.2 miles ... my office building has 28 floors, with stairs starting on level 3 ...
I'm going to climb my building.
I'm not going for speed, just completion (though my unofficial goal is to finish in under an hour). And I've got a few girls from work who are going to participate as well (the company will be nice, but my biggest concern was dying in the stairwell and no one finding me for days).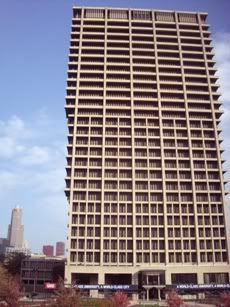 My kid sister will also be in town that weekend, though she doesn't know it yet (surprise!), so it will be great to have her there as well.
The slogan for the 2010 Chicago Marathon is "10-10-10: The Date to Motivate." I love it! I'm not sure of a slogan yet for my ... stairathon? (So cheesy.) But I totally feel motivated to step up my weight loss and work on phase two, getting more active. I've been walking, which is great and fairly low intensity. And I've been "training" for the stairs, doing 5 floors at a time this week. But I need to get back into working out for real. I can start going to the gym next week when I finally get my first paycheck in three months! Definitely looking forward to that.