I never could have dreamed that life post-grad would be this amazing. I do all my work every day from 9-5. I come home, exercise, have some dinner, then watch a movie or read or write the next day's blog post, and I'm in bed by 11:30. Every day, I wake up feeling positive and energetic and full of life. It's an incredibly liberating feeling. Part of it is that the stress of being a full-time grad student isn't there anymore, but also - sleeping well, exercising, drinking lots of water, and not eating poorly help immensely.
I'm down another 5 pounds this week, bringing my total loss to 28 pounds. I started at 345, and I'm down to 317. I know it's not exactly the long-term "onederland," but that 1 has me thrilled. After 1 comes 0, and after that means all three numbers finally changing - and getting rid of that first 3 for good! I can't stop smiling. I realized the other day that I now weigh less than when I moved to Chicago in 2008, and I felt so proud of myself.
Another amazing moment: the other day, I was having a really rough time. One of my students left my class in tears - I had assigned a pretty emotional reading, and after a recent family tragedy, it really hit her - and it's hard not to have stuff like that affect you too as the teacher. I was sitting in my office, let out a heavy sigh, and thought that I couldn't wait to get home and run on the Wii Fit. And then I realized my first thought was "run on the Wii Fit" - and not "eat a whole half-gallon of ice cream" or "order a pizza and eat 'til you're sick." It was an incredible and empowering NSV for me.
In lieu of my usual roses and thorns, I'm going to share an award I recently received!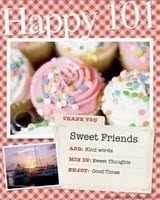 Ten things I like:My family
That's more than obvious.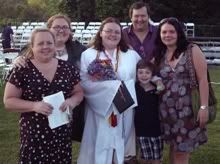 I'm very close to them, and as much as I love Chicago, I wish I lived closer to them. I see them maybe three or four times a year, though we videochat at least once a week. My little brother is nine and a half, and we play Battleship on Pogo while videochatting. It's just like hanging out, except there are nine hundred miles between us.
My friends
They're incredible, seriously.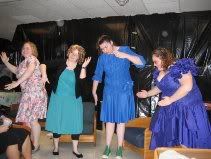 From a professional photographer to a research chemist to a bookseller extraordinaire and more, we're amazingly diverse and have the greatest adventures. We're all spread out now in several cities and states - and three different time zones - but whenever we all get back together, it feels like no one ever left. I'm so unbelievably lucky.
My typewriter
Her name is Helen Scott.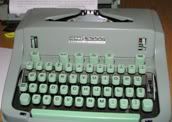 I got her for $5 at a thrift store and used it for two years before the ribbon ran out (I recently found replacement ribbon!). I love writing people letters with a typewriter. Plus, seafoam green? Adorable. I read an article the other day about the oldest typewriter repairman in New Haven, CT. I think he summed it up perfectly: "Typewriters you can own. I think a computer owns you."
"The Golden Girls"
I love them, and I am completely unashamed.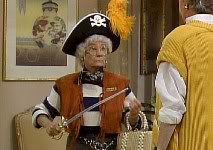 It's funny, because I'm really not a TV watcher - I don't have cable or anything! - but I could sit and watch a GG marathon for ... all seven seasons. And I have every season on DVD, which can be dangerous. I tend to watch them a lot when I'm grading exams, since I don't have to pay too close attention to details on the show and so I can focus on the work.
Being creative
I love making art.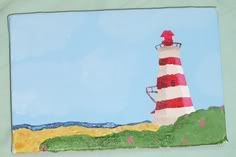 I love the feeling of creating something pleasing. I made a lot of collages when I was an undergrad, and I still decorate notebooks like that all the time (great inexpensive gifts!). Lately I've been painting more, trying to get better at that. I painted gifts for all my friends for Christmas last year (like this lighthouse for my friend Johnny).
Riding the El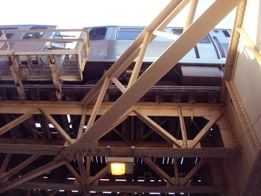 If I had to take the El to work, I probably would not like it as much. But since I really only ride the El when I'm going somewhere fun or exciting, that makes it part of the adventure. Plus, you get such a great view of Chicago when you're racing through it at 55 mph from twenty feet above the road! My favorite part is when the Pink Line is headed towards the Loop and you go over the Chicago River.
Cooking
When I first moved into my apartment,
I didn't have
anything
- bed, desk, TV. Nada. Little by little I got a few things, and it was great. Then, my crazy aunt sends me a "care package" - a KitchenAid stand mixer and a ton of kitchen tools. I didn't have a couch or kitchen table, but I could make cookie dough in five minutes! But that's alright. I *love* cooking, and I'm getting pretty good at it. I love the science of it - taking raw materials and turning it into something that people enjoy.
Board games
I'm not sure if it's the games themselves, or Family Game Night,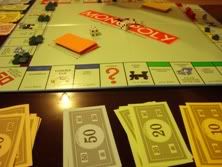 but I love spending an evening playing Monopoly or Scrabble. Inevitably my mother complains about how much she hates board games and how no matter how she strategizes, my dad always wins - yet she's always there with us, playing along and joking (for example, my brother loves Indiana Jones, so whenever someone lands on Indiana Ave., you have to say "Indiana was the dog's name!" with a Sean Connery accent).
Autumn in New England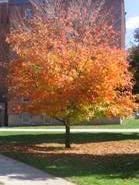 It's incredible. I grew up in a beach town right on the Long Island Sound, and autumn always meant finally reclaiming our beaches and supermarkets. It also meant the state parks were free again until Memorial Day, and so we always went to places like Chatfield Hollow (that even sounds lovely!) and saw the leaves changing. There are covered bridges and everything! So much love.
Rainstorms
I'm a huge fan of pouring rain, especially when there's also thunder and lightning.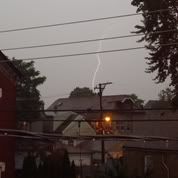 It's such an experience for nearly all the senses - not to mention I'm a total sucker for abandoning all my plans and curling up on the couch watching old black and white movies while the storm rattles around outside. This past summer was really great for that - tons of huge storms, with rain beating down, lightning so close it lit up my kitchen, and thunder so powerful it shook the whole apartment. I curled up with my M.F.K. Fisher tome I've been reading for over a year, and loved every second of it.
Ten bloggers with whom I'd like to share this award:
Hmm. There are so many whose stories I love to follow! These are just some of the fantastic ladies who inspire me, who motivate me, and who provide amazing support.
Loretta ♥ Ann ♥ Debbie ♥ Jayme ♥ Lyn
Jess ♥ First Steps ♥ Cara ♥ Shannon ♥ Amy
And of course,
Jess
, from whom I received the award. Thanks again, Jess!
"Strangers on this road we are on / we are not two, we are one"
The Kinks