My positive sign for the week: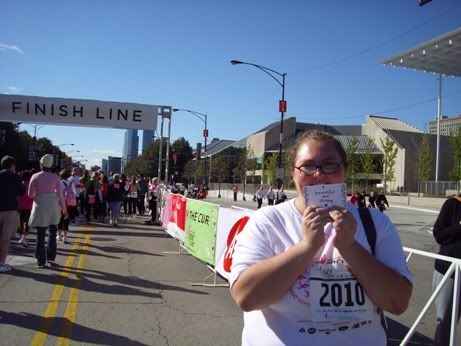 (My friend took the picture so you probably can't read the sign - "beautiful and strong," with arrows pointing at me *and* at everyone around me!)
I walked the Race for the Cure 5k yesterday and it was absolutely incredible. It was a really emotional event, and I had to fight back tears a few times. First, because there were so many people there rallying for a cause that has affected them personally. And also because, for the first time in my life, I crossed a finish line. I can usually walk a mile in about 15 minutes, but since I was walking with my friend and we were chatting the whole time, we finished the 3.1 miles in a little under an hour. And I'm perfectly okay with that.
Challenge start weight:
332
Current weight:
308
(Down another 5 from last week - two more 'til my next mini-goal, I am SO excited!!!)
Progress on my DDGbG goals:
My mom (who isn't entirely tech savvy) left notes for my sisters and me on Facebook the other day. Technically one of my goals was for ME to tell MY FAMILY how much I love them, but this was too cute not to share:

She's so cute!
My recipe for this week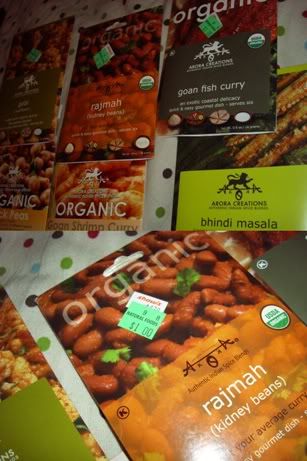 wasn't so much a recipe as a fancy marinade and a new food I've never tried before. A grocery store in my hometown just got bought out by another company so anything that had the old company's price stickers on it got sold at a reduced price. My mom bought up a bunch of organic Indian spice packets - usually $5 each, on clearance for $1. Awesome job, Mom!
So, I made the goan fish curry and served it with lentils. The marinade was made with lemon juice, olive oil, and the spice packet - which contained organic paprika, cumin, coriander, garlic, ginger, chilies, onion, black pepper, turmeric, nutmeg, and mace. I only made 1/3 of the marinade and put the rest of the spice packet in with the cooking lentils, which gave them a subtle spiciness.
The marinade was delicious - spicy but citrus-y, and not too much of either. The problem came with my choice of fish. I grew up on the East Coast and I'm not sure we ever bought fish -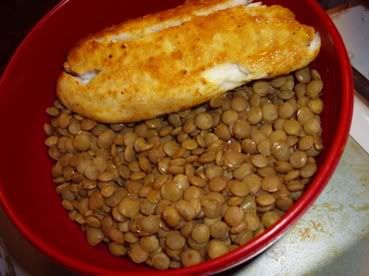 my dad would go on chartered deep sea fishing trips with some of the doctors he worked with, and he'd bring home a thirty to forty pound striped bass that they cleaned and cut into steaks on the boat. Now that I live in Chicago, it's a different story. The only readily accessible and budget-friendly fish here is tilapia - which is delicious, but has a very plain flavor. I have another packet of the spices, and I think next time I will go to Whole Foods and splurge on a good piece of salmon or something that would better compliment the flavor of the marinade.
The lentils, on the other hand, were delicious, and I may have found a new favorite side dish. They're easy to make, have tons of fiber, and they're totally tasty! I want to look for more recipes that feature them - I can see doing them with tomatoes or something else acidic and wonderful.
ONE thing that you are proud of for the week:
Deciding to take a day just for me to go and enjoy having a flexible and amazing grown-up job! I usually work 9-5 Monday to Friday, coming in before I teach and staying afterwards to catch up on grading, lesson planning, and whatnot. But I worked a little yesterday and I'm going into work today to grade student compositions and exams so that I can take tomorrow off and go to the Museum of Science and Industry since it's free tomorrow and they have a special exhibit on Jim Henson! (They also have an epic regular exhibit on the human body that they just did a huge renovation of - I haven't seen it since it reopened, but I'm sure I'll write about it later this week!)
ONE thing that you can improve upon for the following week:
Staying positive. I love seeing the numbers on the scale drop, and I can feel the changes in and on my body, but I still avoid looking at my shadows or looking in mirrors. Physically, I
feel
gorgeous, but seeing how much work I still have to do gets me down. I know it's totally the wrong way to be looking at this, but it's an old habit that's dying awfully hard. So for this week, I want to start falling in love with the girl in the mirror as she melts away!