It's a rainy yucky weekend. Still staying active and cheerful, though!
My positive sign for the week: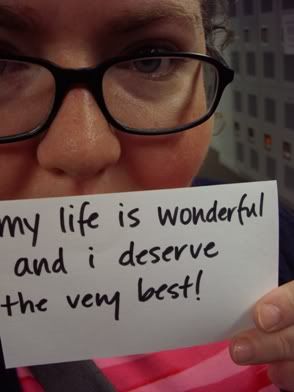 It totally is, and I most certainly do!
Challenge start weight:
332
Current weight:
313
(Down another 4 from last week! Seven more to go until my next mini-goal!)
Progress on my DDGbG goals:
A-mazing.
(1) My middle sister got the handwritten letter I sent her. She loved it! And she said that she loves me and is proud of my new lifestyle. She also said that her best friend said I was "a sweet sister with great handwriting." Yay!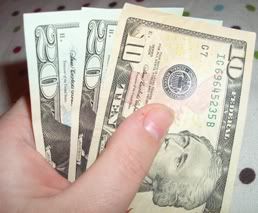 (2) I finally got paid! I get paid monthly, so I hadn't had a paycheck since June when I finished teaching my four-week summer class. So, as I decided, I took $50 and put it aside for my vacation fund! I'm thinking maybe I will try to save a little extra in the next few months (I'll say $50 is a minimum) to try and go somewhere over winter break with just my sisters!
(3) Called my mom a couple times just to check in and let her know I love her and I miss her. I really miss her (and all of my family) an awful lot. Seeing them only a few times a year can be really tough sometimes. In spite of all the problems and stresses of modern technology, I'm so grateful for things like webcams and video chat so I can "see" my family even when we can't be together.
(4) This week's new recipe was another great one -
HungryGirl
's Sweet Coconut Crunch Shrimp.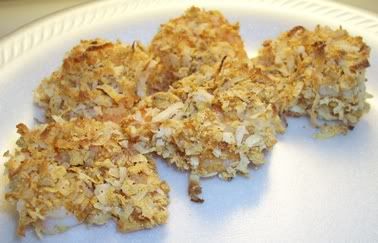 She has a section on her website called "Chew the Right Thing" where she posts healthier recipes for foods that restaurants make. These were baked, not fried, and used bran cereal in the coating - it was super delicious, but I don't know if I would make it for a dinner again (though I would make the recipe again if I were having a party!). It just wasn't terribly filling. I had some Asian vegetables with it (edamame, baby corn, snap peas, water chestnuts), so it went a little further.
1/4 cup Fiber One bran cereal (original)
1/3 cup shredded sweetened coconut
3 tbsp. panko breadcrumbs
1/4 tsp. chili powder
1/8 tsp. garlic powder
1/8 tsp. black pepper
Dash salt
12 oz. (about 20) raw large shrimp, peeled, deveined, tails removed
3 tbsp. fat-free liquid egg substitute (like Egg Beaters Original)

1. Preheat oven to 400 degrees.

2. Place cereal in a sealable plastic bag and, removing as much air as possible, seal. Using a meat mallet or heavy can, carefully crush cereal through the bag. Add sweetened coconut, panko breadcrumbs, chili powder, garlic powder, black pepper, and salt to the bag; seal and shake to mix. Transfer mixture to a large plate and set aside.

3. Spray a large baking sheet with nonstick spray and set aside. Pat shrimp with paper towels to ensure they are completely dry.

4. Combine shrimp with egg substitute in a bowl and toss lightly to coat. One at a time, shake excess egg from shrimp and transfer to the coconut-crumb mixture, gently patting and flipping to coat. Evenly place coated shrimp on the baking sheet.

5. Bake in the oven for 10 - 12 minutes, until outsides are crispy and lightly browned and insides are cooked through. Serve and enjoy!
This makes about four servings, so I halved the recipe. I don't trust egg substitutes so I used two egg whites instead. I also used all cereal and no panko, and they came out just fine. A little sweet, a little spicy, and best of all - not fried!
ONE thing that you are proud of for the week:
I reduced my Netflix down to 1 DVD at a time. This is a HUGE deal for me: I used to get 4 at a time in college, then 3 at a time in grad school, then 2 at a time this summer (but only because I was broke). But now, I find that between working full-time and devoting most of my evenings to the Wii Fit and then writing the next day's blog post, I don't really have time for movies. And I'm completely okay with that - this is an amazing trade-off. I'd much rather work out than lay on the couch and be lazy!
ONE thing that you can improve upon for the following week:
Walking more! I'm walking a 5k next Saturday so I want to gradually increase my daily after work walk from 2.25 miles to 2.75 by Friday.