Another week! I'm still pretty positive - I hit a couple rough patches this week, but I've pressed on, and I feel gorgeous and strong and in control.
My positive sign for the week: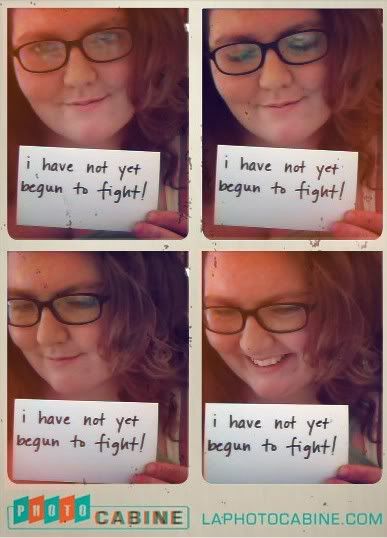 (Taken via my latest obsession -
La Photocabine
! Works with a webcam and takes vintage looking photobooth photos - love! The audio instructions are in French but they have written English captions on-screen.)
Challenge start weight:
332
Current weight:
322
(Another big loss! Down 6 from last week.)
Progress on my DDGbG goals:
This week's new recipe was actually two new recipes, and they were both a-mazing. I was craving something spicy, so I found a great recipe via
All Recipes
for black bean burgers. And since I had zucchini around, I figured I'd find a new recipe for that, too - I love zucchini but I usually just sauté it with some sweet onion and minced garlic. So to go with my black bean burgers, I found a recipe for baked zucchini chips.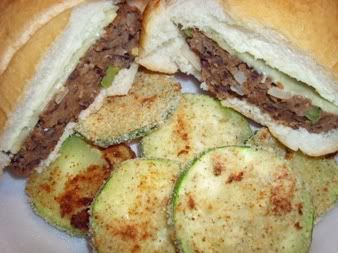 Black bean burger
1 (16 ounce) can black beans, drained and rinsed
1/2 green bell pepper, cut into 2 inch pieces
1/2 onion, cut into wedges
3 cloves garlic, peeled
1 egg
1 tablespoon chili powder
1 tablespoon cumin
1 teaspoon Thai chili sauce or hot sauce
1/2 cup bread crumbs

1. If grilling, preheat an outdoor grill for high heat, and lightly oil a sheet of aluminum foil. If baking, preheat oven to 375º F (190º C), and lightly oil a baking sheet.
2. In a medium bowl, mash black beans with a fork until thick and pasty.
3. In a food processor, finely chop bell pepper, onion, and garlic. Then stir into mashed beans.
4. In a small bowl, stir together egg, chili powder, cumin, and chili sauce.
5. Stir the egg mixture into the mashed beans. Mix in bread crumbs until the mixture is sticky and holds together. Divide mixture into four patties.
6. If grilling, place patties on foil, and grill about 8 minutes on each side. If baking, place patties on baking sheet, and bake about 10 minutes on each side.

Baked zucchini chips
2 medium zucchini, cut into 1/4-inch slices
1/2 cup seasoned dry bread crumbs
1/8 teaspoon ground black pepper
2 tablespoons grated Parmesan cheese
2 egg whites

1. Preheat the oven to 475ºF (245º C).
2. In one small bowl, stir together the bread crumbs, pepper and Parmesan cheese. Place the egg whites in a separate bowl. Dip zucchini slices into the egg whites, then coat the breadcrumb mixture. Place on a greased baking sheet.
3. Bake for 5 minutes in the preheated oven, then turn over and bake for another 5 to 10 minutes, until browned and crispy.
These are the original recipes from the website - they make four servings each, but since it was just for me, I halved them both and put aside leftovers. The chips weren't great reheated (I microwaved - would've been fine in the oven), but I think the burger may have been even better the next day since all the flavors and spices got to soak in more! I don't have a food processor, so I chopped the onion and pepper by hand and used my press for the garlic. Loved it. Fantastic. Super filling. Another recipe to save!
ONE thing that you are proud of for the week:
Planning my first challenge! I love DDGbD and I want to do more challenges, so I am planning one for October. It's a goal for myself, and if other people want to join, that's great. I also decided on a huge goal for October - an exercise challenge, of sorts. Details to come later, but it's going to be huge!
ONE thing that you can improve upon for the following week: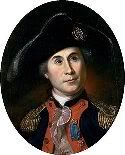 Staying positive. For me, it can be hard to stay on task when I'm feeling so good about how well I'm doing. I'm totally walking on sunshine, feeling lighter and less burdened by excess weight, but then people snicker, or I get on the bus and people would rather stand than sit next to me, and I'm reminded of how much work I still have to do. Instead of getting down about it, and instead of quitting, I've been thinking about
John Paul Jones
. That has been hard, and it only stands to get harder. Surrender? No way! I have not yet begun to fight!