A few weeks ago, I watched a really terrific PBS documentary called
Fat: What No One is Telling You
. One of the women interviewed had bariatric surgery and was sharing her experience with weight loss. She said that before going under the knife, there were mandatory counseling sessions, and in one of the sessions, the doctor asked her to compile a list of reasons why she wanted to lose weight.
I felt really inspired by this, and even though I am not going to have weight loss surgery, I decided to make a list of my own. I timed myself for five minutes and wrote as much as I could. Don't overthink anything, just go with your instincts. When you wonder why you're doing this, what's the first thing that comes to mind?
I came up with twenty-five things.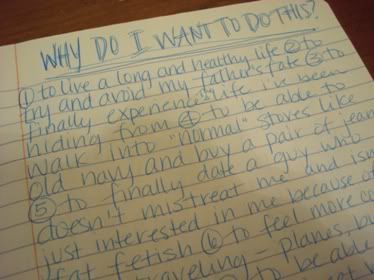 1. To live a long and healthy life.

2. To try and avoid my father's fate.

3. To finally experience the life I've been hiding from.

4. To be able to walk into "normal" stores like Old Navy and buy a pair of jeans.

5. To finally date a guy who doesn't mistreat me and isn't just interested in me because of a fat fetish.

6. To feel more comfortable when traveling - planes, buses, trains, etc.

7. To be able to walk down the street without wondering if everyone is thinking about how fat I am.

8. To be able to do things more comfortably - like shave my legs.

9. To be taken seriously by colleagues.

10. To be able to have kids someday and teach them about loving life and eating responsibly.

11. To not wear a plus size robe when I get my PhD.

12. To not feel self-conscious about going out - to the beach, to a bar, etc.

13. To not avoid friends because I'm ashamed of what I have allowed to happen to my body.

14. To prove that I am in control.

15. To prove that I can set a goal and stick to it.

16. To finally nourish my body the way I have with my mind.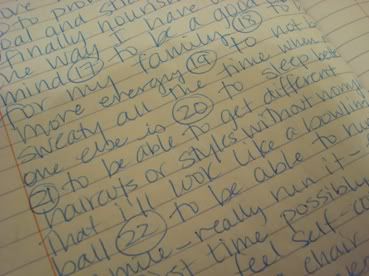 17. To be a good example for my family.

18. To have more energy.

19. To not be sweaty all the time when no one else is.

20. To sleep better.

21. To be able to get different haircuts or styles without worrying that I'll look like a bowling ball.

22. To be able to run a mile - really run it - for the first time possibly ever.

23. To not feel self-conscious every time a chair or floorboard squeaks.

24. To be able to touch my toes.

25. To not get winded every time I climb stairs.