I'm working on eating better and eating less by trying to develop new ideas about food and how to nourish my body. Part of my new eating philosophy is trying to eat not on a schedule, but when I feel hungry. The main purpose for this is to curb mindless eating, eating when I am bored instead of when my body actually needs to be fed.
Getting back to work definitely helps, since I'm pretty busy these days. I've set a personal goal for myself to be on-campus from 9-5 every weekday. I don't teach on Mondays, so I have eight hours that day to get work done.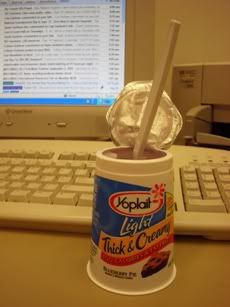 The other four days I have three hours of teaching and five hours for grading, lesson planning, and administrative miscellany (of which there is quite a bit, especially in the first few weeks!).
I get to my office building a little before 9 and go to the café on the ground floor for my daily special: a big cup of ice. Twenty-two cents, and the ice lasts through the first two refills of water. I sit at my desk, check my e-mail, and have a cup of yogurt. I'm totally in love with Yoplait Thick and Creamy light yogurts. I love fruit but I'm kind of picky about fruit-in-yogurt. It's a consistency thing. Peaches and apples good, blueberries and strawberries bad, etc. But I love blueberries and strawberries! So the Thick and Creamy yogurts are great. My favorites are blueberry pie, cherry cobbler, and cinnamon roll. Their regular (non-thick) light yogurts are good too - I like apricot mango, apple turnover, and banana cream pie.
I teach one class in the morning, then come back to my office for an hour before teaching two more classes in the afternoon. I use this hour for lunch - usually a small container of leftovers or a Weight Watchers frozen meal, and more water.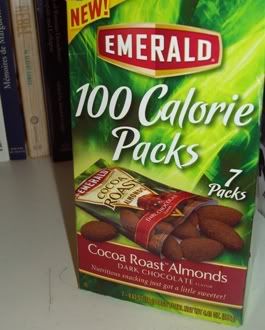 I don't have a microwave at home, but we have one at work, so I take advantage of only having to wait three or so minutes for my lunch - in the oven, it's like half an hour for some of them!
After my afternoon classes, I have two hours to work on whatever I need to get done before the next day. I keep sipping at some water, but I usually feel hungry around 3:30 or 4, so I make sure I have some smart snacks on hand. My recent favorite are these cocoa roasted almonds from Emerald. They satisfy so many needs - crunchy, sweet, chocolatey - and best of all, they're pretty filling for a 100 calorie pack! They kind of taste like chocolate Teddy Grahams, which is pretty amazing, I think. It's just what I need to get me through the afternoon!