Today is my first day of my first real, grown-up job. I was very lucky to get a full-time university lecturer position, my absolute dream job. This week I will be helping to train the new grad students for their Teaching Assistantships, and next week, I'm back in the classroom. I am really nervous, really excited, and definitely ready for it all to happen. Wish me luck!
Continuing a little on my last blog post, I've been thinking a lot about the foods that I eat and what changes I could make to be healthier. Specifically, I've been thinking about the colors of foods. I did an exercise a few weeks ago where, whenever I craved something, I would look up a picture of it on Flickr and save it to a file on my computer. At the end of the week, I sat back and looked at all the foods I wanted. There is a shocking lack of variety with the colors - lots of orange, yellow, brown ... colors that almost always mean "unhealthy." Sure, there are brown beans, yellow squashes, and orange ... um ... oranges, but those weren't the foods I was aching for. It's grilled cheese sandwiches, or pizza, or macaroni and cheese (I told you cheese was my weakness!). Very carb-heavy. So, I am trying to eat more seasonally - lean meats, not too many carbs, and whatever fruits and vegetables are in season. Right now it's summer, I need to take advantage of watermelon and raspberries and summer squash while I can!
I am very lucky to live in a fantastic neighborhood in Chicago: Pilsen.
It's Little Mexico, and I live in a great area that's near the "border" of a few different neighborhoods, so there's a lot of diverse stuff to see and do in the area. I love my street - it's mostly families, which gives it a great atmosphere while still being only 15 minutes from the Loop and downtown Chicago. One of the best things about Pilsen is the food - there are
taquerías
on most corners, little old women with tamale carts here and there, and men pushing
paleta
carts in summer (or even milder winter days!).
For as many places there are to go out to eat, there are just as many great grocery stores. My personal favorite is Pete's Fresh Market.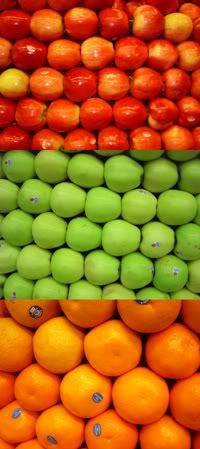 There are several locations all around Chicagoland, and the selection there just can't be beat. The first time I went there was with my cousin Sarah, and I remember being completely amazed at how colorful it is when you first walk in. They have a terrific variety of fresh produce, and the prices are terrific. I grew up in a fairly affluent part of Connecticut where paying $2 for an avocado can be a deal - at Pete's, they often have them on sale 3/$1! (The foodie in me got overly giddy last winter at finding Meyer lemons 7 for $1.) You can get the standards - apples, bananas, oranges, etc. - but they also have a great selection of "specialty" produce - stuff like
tunas
(cactus pears), which have a lot of small, hard seeds, but their flavor is exotic and refreshing.
Besides the produce, they also have a lot of Mexican cheeses, prepared foods like tamales, and a terrific meat market - I usually buy chicken and pork there since I don't really eat much red meat, and it's such a good deal. And every now and then I like to treat myself to a glass bottle of Mexican Coca-Cola - sweetened with cane sugar instead of corn syrup. I have them about twice a year - once on a really hot summer day, and then around Christmas. I don't really like soda - I'm not crazy about bubbles - but I'm a sucker for feeling like I'm recreating "classic" experiences.
My week's worth of groceries usually costs under $30.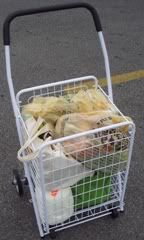 Can't beat that! Then I walk home with my cart all loaded up. Sometimes it costs more if I need to restock my staples, or if I am getting some of their interesting Mexican foods to put in care packages for my family and friends back home (
chicharrones de harina
, dried mangos with hot chili, chocolate-covered banana chips - oh my!). If you're ever in Chicago, you should definitely check out Pete's Fresh Market. Even if you don't need to buy "real" groceries, I still think it's a great experience!