Friday means weigh-in day for me, and I'm really pleased with this week's loss! I am down 10 pounds from last week - it sounds like a lot, but this is usually the way losing weight goes for me. I lose quite a bit the first week or two, because my body is adapting to the changes in diet and activity level. Within a week or so, I should be down to a healthy weekly loss (my goal is to lose two pounds per week).
Something else I would like to do for Fridays, besides announce my numeric progress, is talk about the ups and downs of my week. I read somewhere once that as often as possible, the Obama family sits at the table for family dinner and they share the highlights and lowlights of their day - they call it "roses and thorns." Somewhat less poetically, my parents would have us do the same thing when we were little: we would all share our "good thing and bad thing" about the day. Regardless of your politics, I think everyone would agree that it's a wonderful idea, and it definitely helps families come together and share their lives while sharing a meal.
So, without further ado ... roses and thorns!
Roses for the week:
1. Starting my blog and getting great feedback so far has been unbelievable. I am so excited to see where this all goes!
2. Losing weight - and better than a lower number on a scale is the healthy feeling I have. It's only a fraction of what I need to lose long-term, but the small changes in diet and activity level already have me feeling better.
3. Aguas frescas from the Mexican grocery store.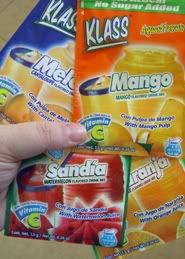 I don't like juice, but I wanted something fruity. They're no sugar added, so I can make them and add as little Splenda as I want (I don't really like sweet drinks, I prefer them fairly watered down). The watermelon is definitely my favorite, and a 30 cent packet makes two quarts. I might freeze some into popsicles this week!
4. I watched quite a few documentaries about food and about obesity/weightloss, and I have a lot of great ideas now about my purpose and my goals. I will definitely expand upon these in a future blog entry!
This week's thorns:
Just one - the weather! It's been in the 90s and humid here in Chicago - I don't mind the heat, but the humidity makes it feel so much worse. Soon enough, though, it'll be cold here and I'll be longing for days like these!