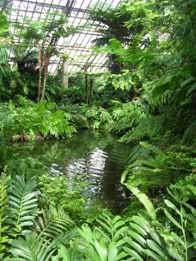 The city motto for Chicago is
urbs in hortis
("city in a garden") and the motto for the Chicago Park District is
hortus in urbe
("garden in a city").
On Saturday, I went to one of my absolute favorite places in Chicago: Garfield Park Conservatory. It's not very far - three stops on one El train, then three on another - and there are amazing things to see there, no matter what time of year it is. I try and go fairly often to see how things look in different seasons, and also to just relax and enjoy such a beautiful place. I went there, for example, the day after I finished all my annotated bibliographies for my Masters exams - after catching up on sleep, of course!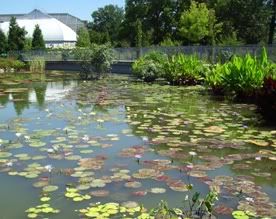 There are several different rooms inside the conservatory with different themes - a rainforest, a desert, and more. There are rooms dedicated to specific kinds of plants, like aroids and fruit-bearing plants. There's one room with a great big koi pond, complete with beautiful fish and Chihuly blown-glass lily pads. There's even a room for little kids with stuff they can touch and climb on! The best, though, are the outdoor gardens. There is a big lawn for picnics, a walking path, a pond with lily pads and a small fountain, and even beehives!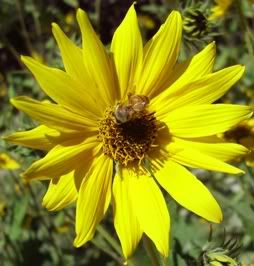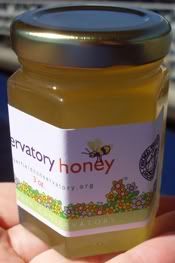 Beekeeping is legal in the city of Chicago, so they have several hives and they sell their own honey in their gift shop! The park and conservatory are free admission, so whenever I go, I pick up a jar of their honey to help support them. It's a great cause, and I think the honey even tastes better because I've seen where it comes from!
I think my favorite thing at the Conservatory, though, is the Labyrinth.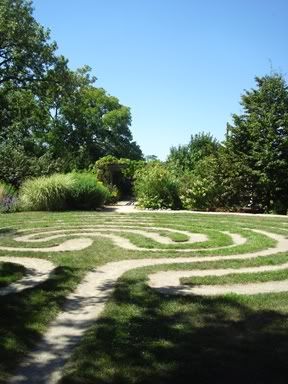 I just discovered it for the first time in April with my sister, and it was ... miraculous. It was life-changing, and I know that probably sounds silly, but it's true. I had the most amazing experience while walking it.
The instructions for walking the labyrinth are posted nearby:
Pause to clear and quiet your mind. Steady your breathing.

Step into the labyrinth. Shed thoughts and emotions. Quiet and empty your mind.

Begin walking, taking plenty of time.

When you reach the labyrinth center, pause and relax.

Return by the same path, ending where you started. The return moves you into union with the divine, with insight or with healing forces.
I handed Katie my purse, then headed in. I tried to clear my mind as best I could, but there were so many worries running around in there. My Masters exams were coming up - was I prepared enough? What if I failed? Or - what if I passed? What's going to happen next in my life? Will I find a job? Will I have to leave Chicago? And as I walked, I wondered if I was doing it right. It seemed to be taking me a long time to reach the center, and there were so many loops and curves.
When I finally got to the end of the labyrinth, I "figured it out," so to speak. Unlike a maze, there are no false turns or dead ends in a labyrinth. There is one true, correct path, and you are on it. Don't worry about the journey, just trust that you will end up exactly where you need to be.
As I retraced my path out of the labyrinth, I felt incredibly hopeful about life. And Saturday, as I walked through the gardens, I remembered that pure, enlightening moment and how it applies to my new lifestyle. All these times when I thought I had failed - those weren't false turns. They were necessary moments on my path - the one, true path - towards where I need to be. I learned from them, and I carry on towards my goal. And I feel so hopeful again.