I didn't get this big eating rice cakes and drinking water. I love food. I LOVE it! And as much as I love eating it, I love making it. I love the feeling of taking raw materials, combining them in interesting ways, and making something to share with the people I love and care for. I'd like to post recipes here every now and then, and hopefully get either feedback - or more recipe suggestions!
For now, I'd like to share a recipe I made with my cousin Sarah a few weeks ago: eggplant gnocchi. Talk about combining two already perfect things! Gnocchi are Italian dumplings usually made with potatoes; this recipe is like a less sinful eggplant parmesan. My mother found the recipe
here
via a link on Food Gawker and asked me to translate it for her (the site has the recipe in French and Italian). Here is is for you, translated to English!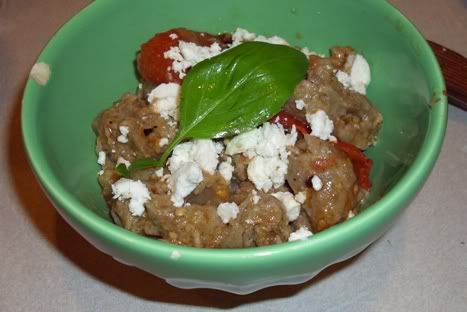 - 2 medium eggplants, slightly less than a pound each
- 4.5 oz (weight) of whole wheat flour (plus some for working the gnocchi)
- 1.5 oz (weight) of grated parmesan
- 1 egg
- 2 cloves of garlic
- several leaves of basil, chopped
- 5 cherry tomatoes, sliced lengthwise
- 4 oz (weight) of ricotta salata
- olive oil, salt, pepper, and a chili pepper
1. Cook the eggplants: cut them the long way, making incisions, and bake at 350ºF for about 30 minutes.
2. Peel off the cooked skin, cutting the eggplant into very small pieces with a knife and putting it back into a frying pan with 2 tbsp of olive oil, 1 clove of garlic, and the basil. Cook over medium heat. Switch off, remove garlic, and let cool.
3. While the eggplant cools, prepare the sauce. In a saucepan, sauté 4 tbsp of olive oil, 1 garlic glove, and a pepper. Add the tomatoes in a single layer and cook over medium heat for 10 minutes. Turn and cook on high heat for several minutes to lightly fry the tomatoes. Salt.
4. Mix the eggplant with the parmesan, flour, and the egg. Salt and pepper. to your taste. Work the mixture to create a well-mixed pasta that will be moist. Flour it.
5. To form the gnocchi: pour batter into a pastry bag (or form dumplings with two teaspoons - or even form them by hand, but it will take more flour). Over a saucepan of boiling salted water, cut small strings about 1 inch in length and sink them in the water as you go. Remove them with a perforated ladle 2 minutes after they have returned to the surface.
6. Pour the gnocchi in the pan with the tomatoes to season them, then serve topped with slices of the ricotta salata.
Servings: 4-5
A few notes: (1) The measurements are all Metric (2) Ricotta salata is a dry salted ricotta cheese - NOT the same as ricotta like you use in lasagne - it's like Italian feta. Since it's a topping and not a key ingredient, we had no problem substituting fat-free feta. (3) We prepared them via the pastry bag method, and let's just say that they were visually ... well, they looked like poo. But they tasted amazing, so the look didn't matter much. (4) Instead of a chili pepper, we used a few shakes of crushed red pepper. Still good.