It's the second week of Drop Dead Gorgeous by December, and I'm loving it so far. I've met so many new bloggers and found so much inspiration in their journeys. I'm also loving how positive I feel about my journey - I'm only a few weeks in, but I've already come so far and done so much good for my body and my life!
My positive sign for the week: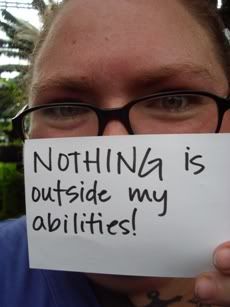 (Taken yesterday at Garfield Park Conservatory, one of my absolute favorite places in all of Chicago!)
Challenge start weight:
332
Current weight:
328
(Another reason to smile!)
Progress on my DDGbG goals:
So far, so good! This week's new recipe was fueled by Sarah having an abundance of zucchini at her place. I Google searched "zucchini recipes -bread" to try to only get savory recipes, and I came across a great one from Diabetes Daily: zucchini-crust pizza.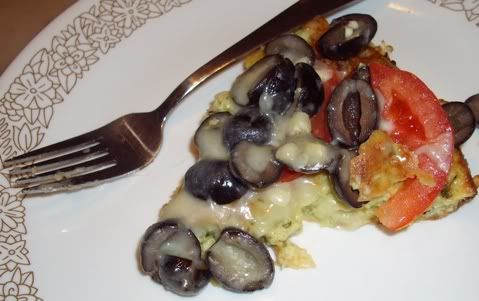 It's essentially a frittata that you put pizza toppings on, and it was great. We used an 8" pan instead of a 10" so the bottom was a little thicker than the picture on the website, but it was still super delicious. We didn't use pizza sauce, just sliced fresh plum tomatoes, sliced black olives, minced garlic, and about a cup of mozzarella cheese. Amazing!
Olive oil and flour for the pan
2 cups (packed) grated zucchini
2 eggs, beaten
1/4 cup flour
1/2 cup grated mozzarella
1/2 cup grated parmesan
1/4 teaspoon dried basil
2 tablespoons olive oil

Preheat oven to 400º F. Drizzle a little olive oil in a 10" pie pan and coat lightly with flour. Combine the zucchini, eggs, flour, mozzarella, parmesan, basil, and 1 tablespoon olive oil in a bowl and mix well. Spread into the pie pan and bake for 35 to 40 minutes or until golden brown. About halfway through the baking, brush with the remaining olive oil. Remove from oven. When it has cooled for about 10 minutes, use a spatula to loosen the crust from the pan so it won't break later. Top with your favorite pizza items and bake at 400º F until heated through.
It makes four servings, but I think we cut it up into six - so I had some for dinner and then brought another piece to work the next day for lunch. It was easy, delicious, and inexpensive - definitely a recipe I'll hold on to!
ONE thing that you are proud of for the week:
Surviving my first week of full-time work! I've taught before, but there are all new challenges this year as a lecturer compared to when I was a TA in grad school. I've set a personal goal to stay on campus from 9 to 5 every day, and to not bring any work home. I made it through a week of this, and I really love the feeling of coming home and not worrying about work!
ONE thing that you can improve upon for the following week:
Walking more. Now that I'm back to work, it's so easy to come home and think "Dinner. Relax. Bed." Walking doesn't take much time and I always feel so great during/after it. Plus, I need to enjoy the nice weather here in Chicago while it lasts!