Today I am going with my cousin Sarah, her boyfriend Marty, Sarah's sister Rachel, Rachel's boyfriend Steve, and Rachel's daughter to the Illinois State Fair. As far as food ... I'm going to do my best. Am I going to not eat all day? No. Am I going to try deep fried everything? Absolutely not. But I'm not going to put life completely on hold. I've never even eaten fair food! When we were kids, my parents would bring my sisters and I to the Durham Fair in Durham, CT (small beans compared to the Illinois State Fair!), and we were not allowed to get fair food or go on rides. We looked at all the judged baked goods and the livestock, and sometimes we'd watch the tractor pull. So I'm really looking forward to seeing all the animals and stuff like that at the fair; the food isn't the first thing I think of. And luckily, Sarah knows I'm trying to lose weight, so hopefully we can be good together. I read somewhere that the first and last bite of anything are the most delicious, so I'm going keep that in mind when faced with all that temptation!
I'm also really looking forward to the three-and-a-half hour trek to Springfield. Most people probably dread the sound of that, but I'm really excited. When I was little, my family hardly ever went on vacations.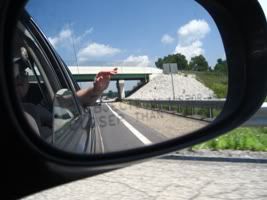 When we did, it was almost always a road trip down to Florida to visit our grandparents over February or April vacation. We'd load up the station wagon and drive down, with Mom and Dad alternating driving so we could save a little money and not have to stay at a hotel. It wasn't anywhere fancy, but we loved it. The reprieve (however brief) from winter weather was amazing, but one of my favorite parts was always the car ride. The close quarters, the fights with my sisters, the cassette tape sing alongs. We took vacations so infrequently that in between trips, we all seemed to forget the down sides, and we remembered only the great parts of road travel.
My love of travel grew in college when I took my first flight - Hartford, CT, to Chicago, for the summer vacation that was supposed to save my life. While the events of that summer left much to be desired, two passions were born thereof: Chicago, and long-distance travel.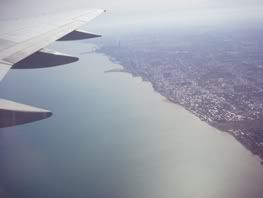 That first flight opened up the floodgates for me; I've never had any interest in dropping hundreds of dollars on name brand purses, but now I'm almost always tempted by moderately discounted flights for weekend getaways. I went back and forth to Chicago several times before moving here, down to Florida once or twice, and I've taken a few trips to Paris, France.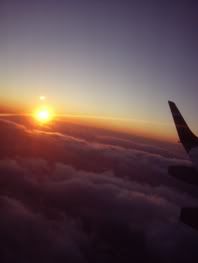 The vacations themselves are incredible, but there was something about the traveling part that I always enjoyed. I love "passengering" - I love being whisked away, not worrying about how to get somewhere, yet ending up exactly where I need to be.
I haven't flown in a really long time, though, opting instead for trains. Last summer, I took a train for the first time. Sort of. Growing up on the Connecticut shoreline, we found ourselves taking the train to New York City every now and then; in Chicago, I've taken the El and commuter trains. But this was a real, long-distance train ride: New Haven, CT, to Washington, D.C., and then the Capitol Limited to Chicago. This summer I did a different route, the Lake Shore Limited, from Chicago to Springfield, MA, followed by a regional shuttle to New Haven. Both trips took a little over a day, and they were great. There are big panoramic windows that help you fully take in the terrific views.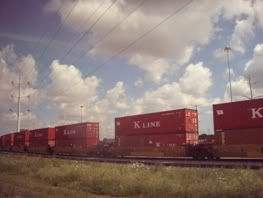 As you coast through fields of corn and soybeans and pass schools and locks of the Erie Canal, you get overwhelmed with this feeling of American pride. I think it's easy to visually represent the United States with our cities like New York and Chicago, but this was, to me, the real heart of the country.
I think another reason why I have chosen train travel as of late is the seats. I don't think I'm alone in dreading airplanes - when you travel with someone, it's not that bad, as you can sit together and (at least for me anyway) your loved ones don't mind your thighs encroaching on their seat. But as a young single person, I find that I often travel alone, and that has
never
been a good thing. One side of a two-seat section is pretty bad, but the absolute worst is middle of three (nope, I take it back - middle of five, which I was unbelievably grateful to not have had on my last trip to Paris). I find myself on edge the entire flight - even though I've never had a problem with buckling the seatbelt, it's still a cramped situation. I find myself disembarking from every flight swearing that I've been humiliated enough, I have to lose weight. But last summer, when travel was necessary, I decided to try the train.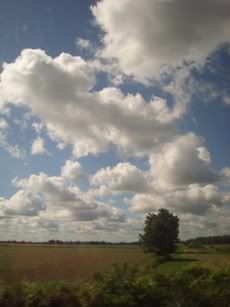 I was already upset enough by what was happening in my life at the time, I didn't need the overexaggerated frustrated sighs of someone else to make it worse. Things are different on the train. The seats, even in coach, are big and there's plenty of legroom. There are no rules about bringing food or liquid on-board, so I make a few sandwiches, bring a few waterbottles, and enjoy the ride.
One of my non-scale weight loss goals is to feel comfortable on an airplane again. I like the train, I really do. But if I ever want to get back to Paris (or anywhere else abroad, for that matter), I've got to get back into flying.