So, I spent all day Saturday with great company at the Illinois State Fair. I'm really pleased to say that I made good decisions all day - not an easy feat!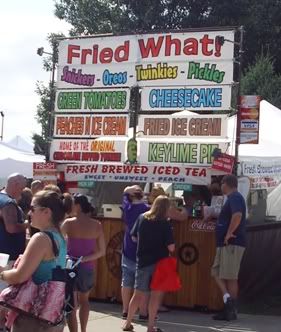 We hit the road pretty early, stopping after a little while for gas and breakfast. There were donut holes, breakfast sandwiches, and energy drinks - I anticipated this and prepared ahead, eating a yogurt before I left and bringing a Lärabar, which I ate a few hours into the ride. I chose the bar for its simple ingredients: dates, almonds, unsweetened apples, walnuts, raisins, cinnamon. Super delicious! I don't usually eat things like that except in situations like this. (I also used to bring them to nights when I would have class and wouldn't get home until 8! Odwalla bars, usually - they have a banana nut one that's amazing.)
When we got there, everyone wanted to take the chair lift from one side of the fair to the other. Besides my fear of heights, I was also worried about weight limits, so I opted to walk instead. I ended up beating them all to the other area! I had to walk through the main food area, so I got a good view of what I was up against.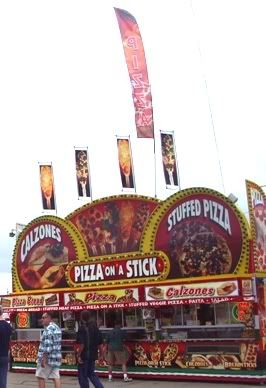 Yikes. Foot-long corn dogs. Fried cheese curds. Anything you could possibly think of-on-a-stick! Even chocolate-covered bacon! Just ... yikes.
We did a lot of walking (a great chance to burn calories!) and I made decent food choices, given the options. I went into the day knowing that I was going to enjoy the day without going crazy, and I'm glad to have stuck to that. I had a banana milkshake (amazing!), a thin slice of pizza for lunch, and a cup of sweet tea. I also got some taffy that I ate a couple pieces of and put the rest in the freezer when I got home. I politely declined the offers of tornado potatoes and bites of a corn dog. It doesn't sound like much, but it felt like a pretty big victory!